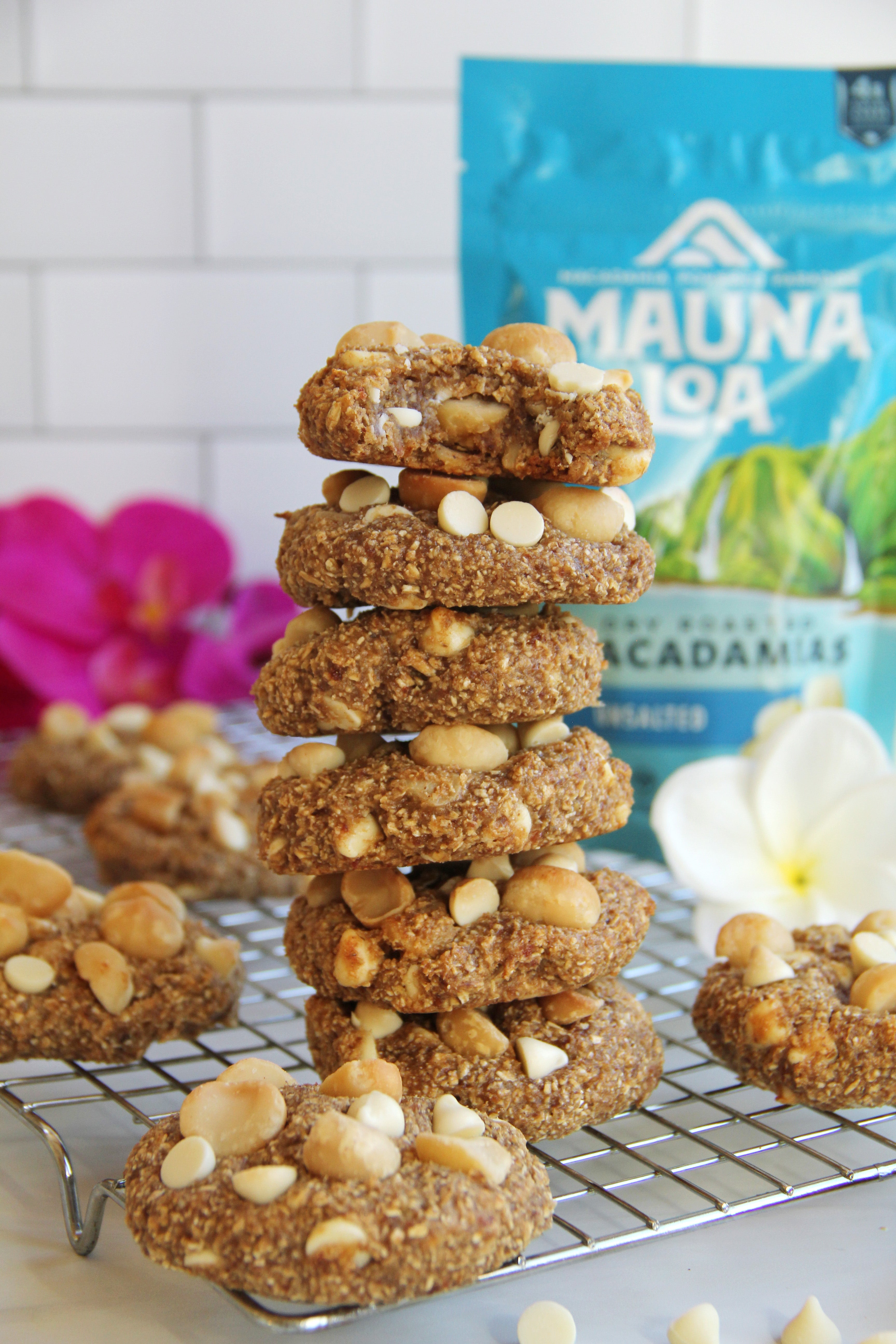 White Chocolate Macadamia Spice Cookies
Directions
Prep Time:

15 minutes

Cook Time:

15 minutes

Servings:

3
Preheat the oven to 350° and cover two large baking sheets with parchment paper.
Give the dates a coarse chop to make sure there are no pits inside.
Put all of the ingredients except for the macadamias and white chocolate chips into a food processor.
Process until the mixture forms a thick, sticky, homogeneous dough. If you have trouble forming a coherent dough, add another small dash of nut milk (the total moisture content of the dough will depend on the moisture of the dates you're working with and the oil content of the nut butter you use). You want to achieve a dense, moldable dough that you can roll into balls.
Coarsely chop about three quarters of the macadamias and add them to the dough; set aside the remaining macadamias for garnishing the tops of the cookies.
Add most of the white chocolate chips to the dough, setting aside a couple handfuls for garnishing the tops of the cookies. Stir the macadamias and white chocolate into the dough by hand.
Form the dough into balls, each about 2 tbsp or slightly bigger than a golf ball, then press each ball into a cookie shape. This should give you about 15-18 cookies.
Press additional macadamia nuts and white chocolate chips into the top of each cookie.
Bake at 350° for about 12-15 minutes, until the cookies have begun to puff up slightly. Cool on the baking sheet for several minutes until set, then transfer them to a wire rack.
NOTE: If you like a very fudgy cookie, leave the almond flour out. Conversely, if you prefer a more cakey cookie, use the almond flour. You can also use oat flour instead of almond flour if you do not need the cookies to be grain-free.
Explore our selection of premium macadamias from chocolate covered to honey roasted macadamias. Check out more of our Macadamia Recipes here for everyday inspiration!
Ingredients
1 c natural, drippy nut butter of choice
½ c almond flour (optional; see texture note below)
¼ c nut milk of choice
2 tbsp ground flax seed meal
1 tsp vanilla
1 tsp baking powder
¼ tsp salt
1 tsp cinnamon
1 tsp ginger root powder
¼ tsp nutmeg
¼ tsp allspice
¼ tsp cardamon
8 oz Mauna Loa Unsalted Macadamia Nuts, divided
½ c white chocolate chips, divided
Cook this recipe with the best ingredient
Get the best flavor out of this recipe using our macadamia products.
Shop Now