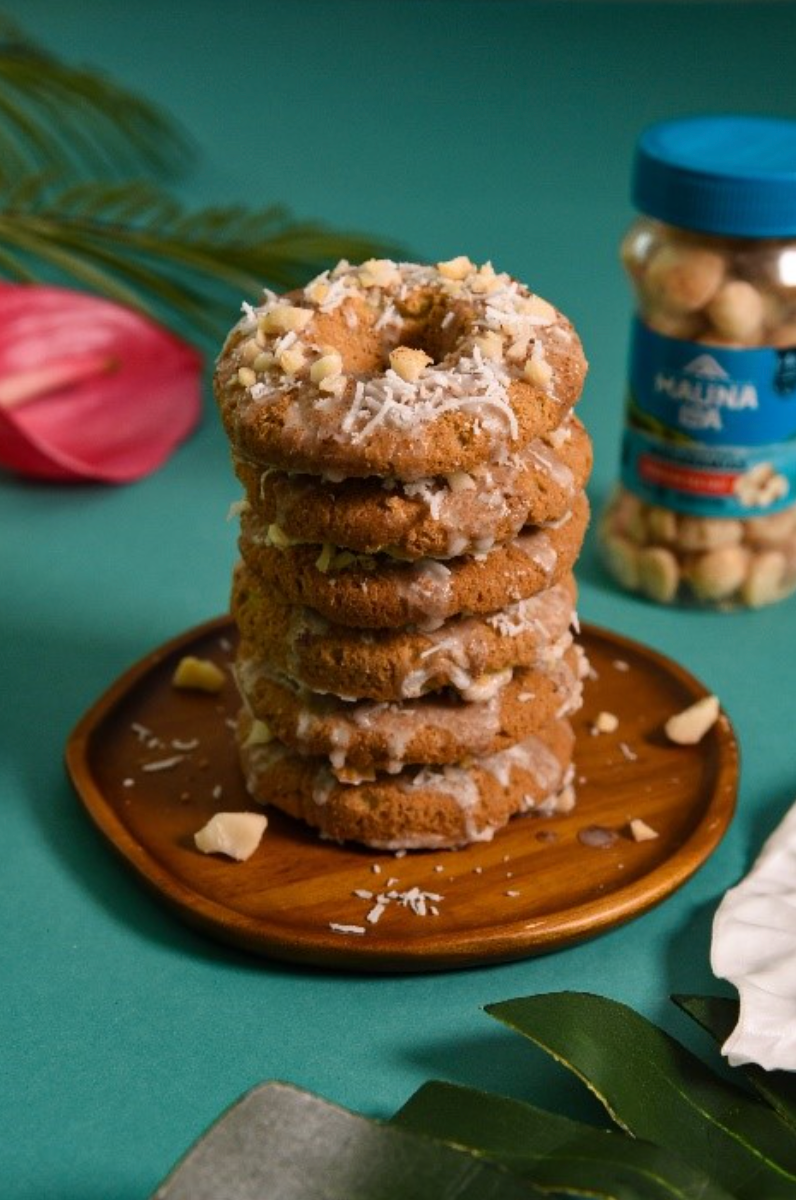 Mauna Loa's Keto Macadamia Nut Donuts with White Cocoa Glaze
Directions
Combine 1 cup Hawaiian Sea Salt Macadamias with 1 1/2 tsp coconut oil in a food processor. Blend until creamy and the nut butter is completely pureed. Set aside.
In large bowl, combine coconut flour, baking soda, xantham gum, egg yolks, coconut oil, vanilla extract, macadamia milk and 2 tbsp of macadamia nut butter. Blend well.
In separate bowl, whip egg whites until they form a firm peak. Fold into your donut mixture and mix until a dough-like texture forms.
Spoon mixture into greased donut pan and bake for 17-20 minutes at 400°F
Meanwhile, combine all glaze ingredients in a small saucepan (except shredded coconut and mac nuts). Heat on low until melted.
Once fully baked and cooled, pour glaze over the donuts. Top with shredded coconut and Mauna. Loa Hawaiian Sea Salt Macadamias. Enjoy!
Ingredients
Donut Ingredients
2 tbsp of macadamia nut butter (1 cup Mauna Loa Hawaiian Sea Salt Macadamias + 1 1/2 tsp coconut oil).
6 tbsp coconut flour
1/2 tsp baking soda
1/8 tsp xantham gum
3 egg yolks
3 egg whites
3 tbsp coconut oil
1/2 tsp vanilla
3 tbsp macadamia milk
Glaze Ingredients
3 tbsp coconut oil
3 tbsp coconut butter
2 tsp coconut sugar
1 tbsp shredded coconut (for topping)
1 tbsp Mauna Loa Hawaiian Sea Salt Macadamias, chopped (for topping)