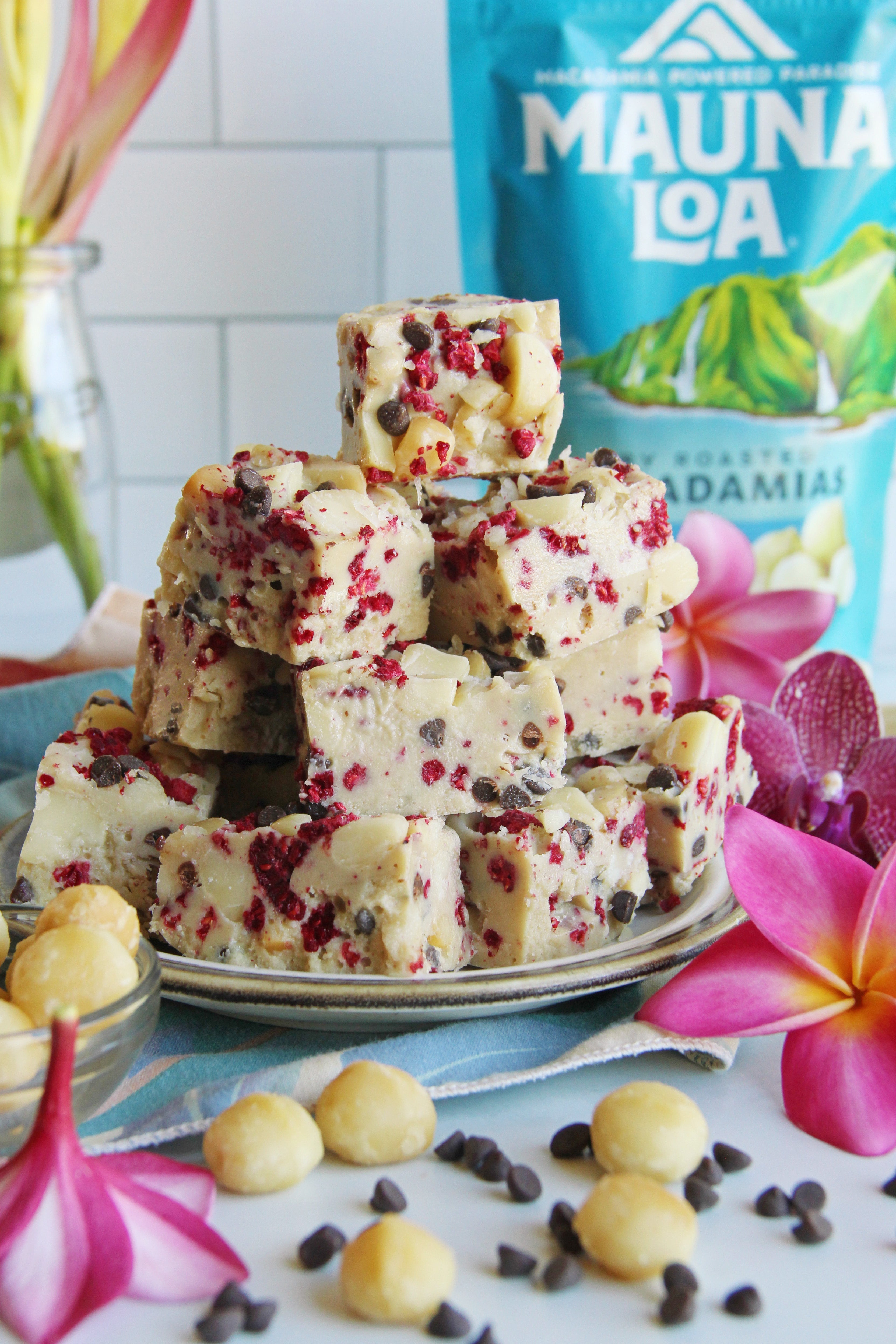 Macadamia Raspberry Dark Chocolate Freezer Fudge
Directions
Prep Time:

15 minutes

Servings:

3
Line an 8x8 or 9x9 baking dish with parchment or wax paper, leaving enough paper on the sides so that you will be able to pull the fudge out after it sets.
In a small mixing bowl, combine the nut butter, melted coconut oil, honey (or agave), and vanilla, then stir until thoroughly combined.
If the melted coconut oil was warm, allow the mixture to cool to room temperature to avoid melting the chocolate.
Chop the macadamias and freeze-dried raspberries coarsely.
To the fudge mixture, add most of the chopped macadamias, raspberries, and chocolate chips, setting aside a handful of each for decorating the top.
Pour the mixture into the prepared loaf pan.
Sprinkle the remaining macadamias, raspberries, and chocolate across the top of the fudge, pressing them down lightly into the surface so they stick.
Cover the loaf pan with plastic wrap and place it in the freezer. Freeze overnight.
Remove the fudge from the freezer. Using the sides of the parchment paper, pull the fudge out of the pan. Make three cuts in each direction to yield 16 small squares.
Store the fudge in the freezer in an air-tight container for up to several weeks. To serve, let the fudge warm up for five minutes at room temperature.
NOTE:
You can use any neutrally-flavored, light-colored nut butter you prefer in this recipe. We of course love to use macadamia butter! Cashew butter (especially raw), or a macadamia-cashew blend, will also have a relatively neutral flavor. We do not suggest using peanut butter or almond butter since the color will be brown and the flavor will overpower the other ingredients.
Explore our selection of premium macadamias from chocolate covered to honey roasted macadamias. Check out more of our Macadamia Recipes here for everyday inspiration!
Ingredients
2 c smooth, natural, drippy, neutral-flavored nut butter (see notes)
½ c melted coconut oil
¼ c honey (or agave)
1 tsp vanilla
1 c freeze-dried raspberries
4 oz miniature dark chocolate chips
Cook this recipe with the best ingredient
Get the best flavor out of this recipe using our macadamia products.
Shop Now