Mauna Loa x Asato Family MOG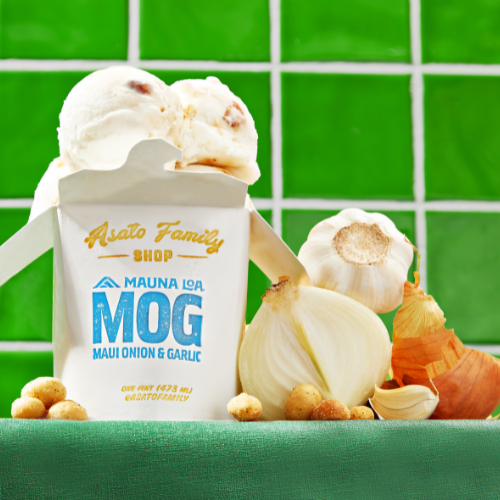 HONOLULU, HI - 
Macadamia nut leader Mauna Loa and iconic sherbert boutique Asato Family Shop joined forces to create an exclusive, limited-edition Maui Onion & Garlic (MOG) Macadamia Milk ice cream pint. While Mauna Loa has been making macadamia products for over 75 years, they recently launched their
dairy-free macadamia milk ice cream
in 2021. To build on the momentum of their unique macadamia milk ice cream line,
Mauna Loa thought to celebrate one of their classic macadamia flavors that combines savory garlic with sweet onion
– as a frozen, creamy treat – for an April Fools' twist.

According to Danielle Laubenstein, Senior Director of Global Marketing, "Last year for April Fools', our team put out a social media post of a Maui Onion & Garlic pint of our unbelievably dairy-free ice cream and it performed extremely well. Everyone kept commenting that they wanted to actually try it. When thinking of a local partner to help bring this wacky idea to life, Asato Family Shop was the first to come to mind. Neale and his team at Asato Family Shop are always producing such innovative and delicious pints of local Hawaiʻi style sherbert, so we thought letʻs just have a little fun."
"Partnering with Mauna Loa on creating a unique new flavor is something that got us excited! Taking a bite of the frozen Maui Onion & Garlic Ice Cream is a delightfully familiar and foreign experience." - Neale Asato (Owner and Founder of Asato Family Shop)
The limited-edition pint was available for purchase at Asato Family's Scoop Truck which parks on Tuesdays through Fridays at 2057 Kalākaua Ave, in Honolulu, Hawaiʻi. On Friday, March 31st, the scoop truck served free mini scoops and sold pints from 11:00am to 2:00pm.

Asato Family Shop
At Asato Family Shop we are inspired by old-school treats from crack seed stores, the Manapua Man, and other local flavors from around Hawaii. Specific flavors are able to transport us back to small kid time. By taking inspiration from the past and mixing it with the present, we hope to keep local flavors alive for the next generation. Our shop looks to honor the flavors and traditions of Hawaii with "Local Kine" Sherbert and products. For more information on Asato Family Shop, please visit asatofamilyshop.com