Mauna Loa® Unlocks Functional Plant Power with Brand Elevation and Introduces First and Only Macadamia Milk Dairy-Free Ice Cream in to Market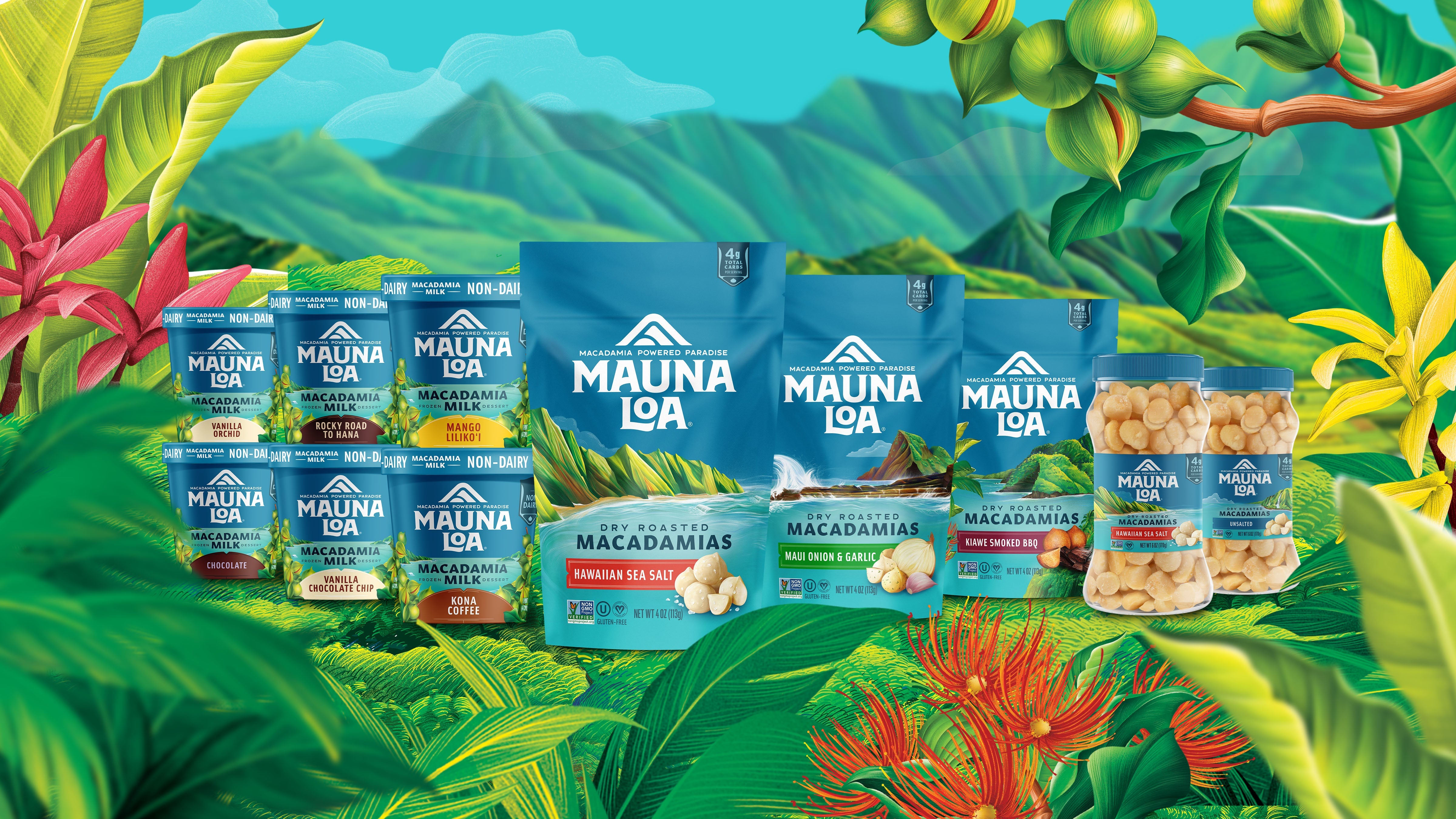 The iconic, Hawai'i-based brand's new look and original innovation further fuels its category leadership as the #1 macadamia nut brand and fulfills desires from health-conscious consumers seeking well-rounded, plant-based nutrition without compromising taste.   
KEAʻAU, HAWAI'I, Jan. 2, 2021 – Mauna Loa®, the global leader of macadamia nut products for more than 70 years, announced today the official rollout of its design rebrand and elevation to further showcase its Hawai'i roots, while bringing continued innovation to the category and delivering on the needs of today's health-conscious consumer. In doing so, Mauna Loa also celebrates the launch of its newest line: The first and only macadamia milk-based frozen dessert, adding to its already nationally distributed dry-roasted flavored macadamia nuts and chocolate-covered macadamia nuts.   
"With the opportunity to establish Mauna Loa as Hawai'i's wellness brand, both on the Islands and on the mainland, we're excited to be the first to bring our mighty macadamia to the frozen dessert segment," shared Ed Schultz, President and CEO of Hawaiian Host Group — Mauna Loa's parent company. "When we trialled our dairy-free ice cream with consumers, they were most excited about its creaminess, which makes the perfect base for a plant-powered treat."  
Mauna Loa's new line of macadamia-milk, dairy-free ice cream comes in six Hawai'i-inspired flavors:  
Rocky Road to Hana

 

is a Hawaiian twist on the classic with a nod to the fabled, winding drive on the Eastside of Maui. Think

 

creamy

 

chocolate, vegan marshmallows and crunchy macadamias.

 

Vanilla Orchid

 

offers a delightful option for the classic flavor with a side of

 

aloha

.

 

Mango

 

Liliko

'

i

 

is a sweet and tart union of mango and passionfruit.

 

Kona Coffee

 

is premium Kona coffee in frozen form.

 

Vanilla Chocolate Chip

 

offers

 

a

 

fun texture to a timeless flavor.

 

Chocolate

 

is a plant-based take on the traditional flavor, made with premium cacao.

 
With a simple ingredient list, all ice cream flavors are Certified Vegan, dairy-and-gluten free, and Non-GMO Project Verified, and will be rolling out into retailer freezers across the country, includingAlbertsons/Safeway (Seattle, Hawai'i, NorCal, SoCal, Texas and New Mexico), Sprouts nationwide, Whole Foods Market (Hawai'i) and Longs Drugs (Hawai'i), between now and February 2021. All six SKU's will also be available for purchase on MaunaLoa.com this January.   
The iconic hue of Mauna Loa Blue consumers have grown to love remains at the forefront of the brand's design, and the landscapes featured in each package invite consumers in for a glimpse of the Islands' beauty, as each illustration depicts locations throughout Hawai'i that embody mana, meaning "force of nature" in Hawaiian.   
"We're honored and excited to take Mauna Loa, a brand rooted in timeless Hawaiian values, into this next stage of life with a refreshed look and unique innovation to continue delivering on the evolving snacking needs and daily routines of our fans and their families," said Danielle Laubenstein, Director of Global Brand & Innovation for Mauna Loa. "As we embrace the modern evolution of our beloved brand, we remain committed to crafting the highest-quality and most-sustainable macadamia nut products, globally, setting Mauna Loa up to be a major player across various categories in the years to come."  
Mauna Loa's current line of flavored macadamias is also welcoming innovation, with the expansion of its unsalted macadamias and launch of its latest variety, Kiawe Smoked BBQ Macadamia Nuts, a perfect blend of tangy and smoky flavor for a snackable delight.   
With its core lineup of dry-roasted, flavored macadamias, Mauna Loa is a favorite for those who follow Keto and Paleo diets, as they're naturally high in healthy fats, low in carbs, and have the best omega-3 to omega-6 ratio of any tree nut. Coinciding with other updates, the entire line has been reformulated, moving into healthier, sustainable macadamia oil and now boasts a Non-GMO Project Verification, as well as Cocoa Horizons certification for its products containing cocoa.   
About Mauna Loa®  
Beginning in 1949, beneath the shadow of Mauna Loa® volcano herself, the Mauna Loa brand began growing and roasting macadamias to produce a nutrient-dense nut with a buttery flavor and unique crunch. Since then, the Hawai'i-based company still roasts macadamias in its own manufacturing plant in Keaʻau, on the Big Island of Hawai'i, and has created a wide variety of macadamia nut products, including a line of flavored nuts and a chocolate-covered nuts line. With a passionate team who embodies the aloha spirit, Mauna Loa continues to innovate with bold new products that harness the vibrant flavors and exquisite tastes of Hawai'i. For more information on Mauna Loa, visit maunaloa.com.  
About Hawaiian Host Group   
Hawaiian Host Group, parent company to Hawaiian Host® and Mauna Loa brands, is the leading manufacturer of premium chocolate and macadamia nut snacks. Renowned for providing an authentic chocolate and macadamia nut experience, the iconic Hawai'i company has been offering high-quality, delicious products—from fine confectionery gifts to indulgent snacks, since 1927. Headquartered in Honolulu, Hawaiian Host Group produces a wide assortment unique premium chocolate and macadamia nut snacks and distributes globally. For more information on Hawaiian Host Group, visit www.hawaiianhostgroup.com.  
*Sources: Grand View Research. Dairy-Free Ice Cream Market, Industry Report, 2019.  
###