1.2-MW Solar Project Helps Power Mauna Loa Plant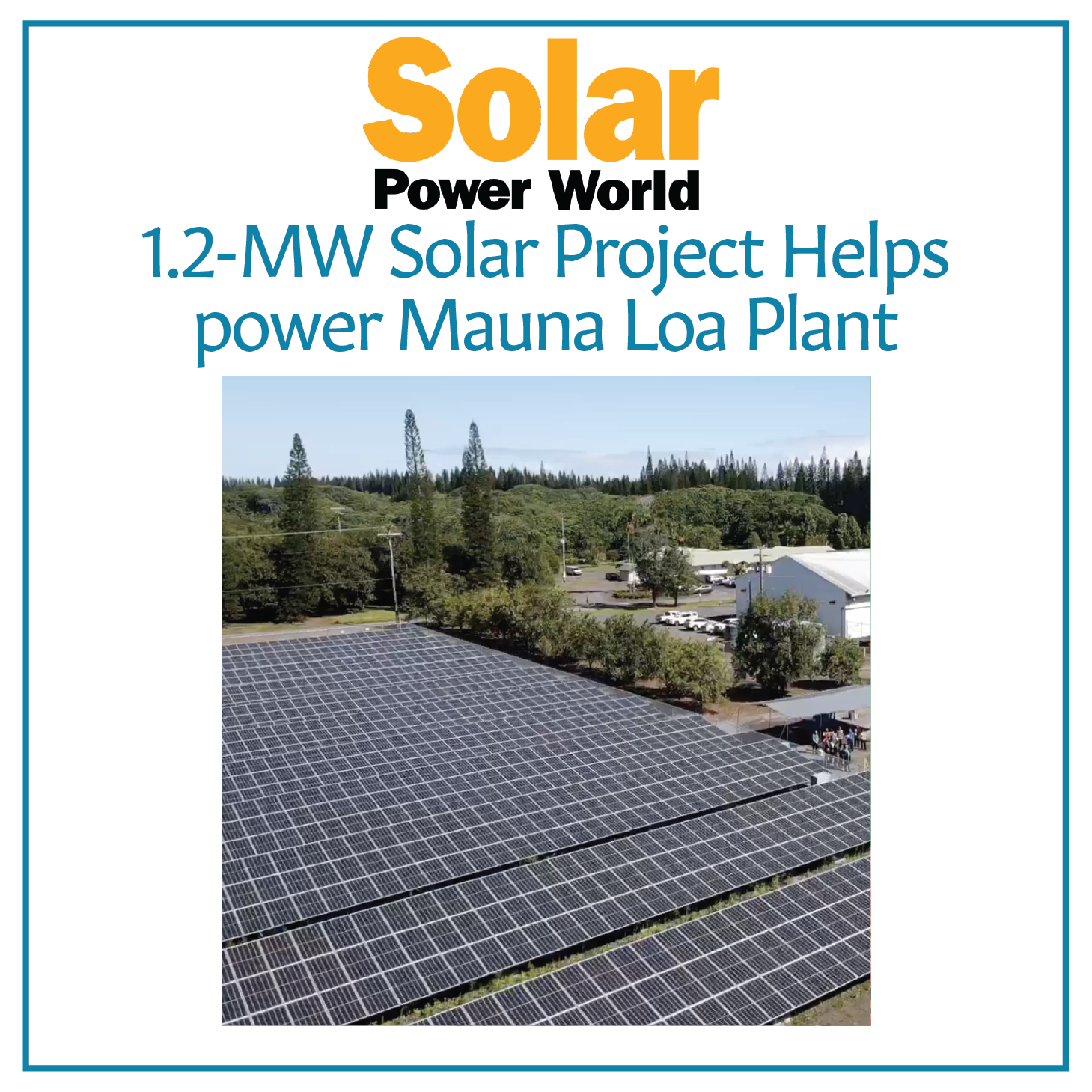 DSD Renewables has completed a 1.2-MW solar project with a 500-kW battery for Mauna Loa, a macadamia nut brand. The installation will directly power 85% of Mauna Loa's processing plant in Kea'au, Hawai'i, with solar energy. The addition complements existing clean energy sources at the facility, which will now be powered by 100% renewables.
The solar installation, completed in partnership with No Ka Oi Energy, includes 2,916 solar panels laid out across three acres on Mauna Loa's macadamia nut farm.
"Hawaiian Host Group's sustainable vision and leadership made the Mauna Loa project a great opportunity for DSD to apply our expertise in solar and storage development," says Eric Pollock, Chief Commercial Officer at DSD. "It's exciting to be a part of this momentous project and we're happy to play a part in helping Mauna Loa further reduce its environmental footprint."
Mauna Loa values environmental sustainability, working to reduce its carbon footprint at every turn. Its Hawaiian crop of macadamias are grown with only rainwater, making the macadamia one of the most sustainable nut varieties. The company also aims to avoid waste by using the whole nut during its production process, cleanly burning the shells to create renewable energy and composting the nut husks to enrich the local community's soil.
"Hawaiian Host Group's purpose is to make the Islands' future flourish, and partnering with DSD has enabled us to fulfill a large portion of our vision for a clean energy future," says Ed Schultz, President & CEO of Hawaiian Host Group, the parent company of Mauna Loa. "This project nicely complements Mauna Loa's on-site water and wastewater system, and with the addition of the renewable power system, our Kea'au facility can now be 100% self-sustained. We will continue to learn and take action to minimize our environmental impact as much as possible and care for our ʻāina (land)."
No Ka Oi Energy in Maui brought the project to DSD and assisted in development. DSD will be the long-term owner and manager of the solar and storage assets.
-Solar Power World, Kelly Pickerel